Product detail
Pillow type bag flow wrapping machine
Flow wrap machine performs three tasks in one fluid and continuous operation – forming a bag, filling it with product, and sealing and discharging the finished package.
These packages are protective, consistent, and professional looking.
Our flow wrap machine are the preferred choice for everyone from small start-ups to large companies with higher speed wrapping requirements. PAC's flow wrap machine are used to wrap items such as candy bars, ice cream bars, brownies, popsicles, cookies, muffins, and even medical devices and industrial parts.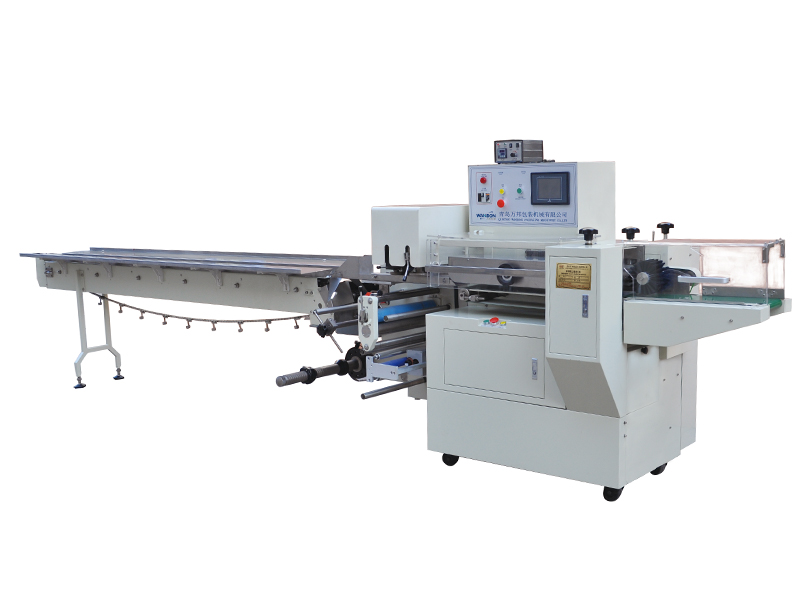 Flow type packing Machine introduction
Automatic Upward-Film-Feeding Packaging Machine is a special design by our company to replace manual family packaging of instant noodles, rice vermicelli, rice noodles, etc.
The machine is equipped with automatic film splicing, stepless speed regulation, photoelectric tracking performing in high-efficiency.
Special recommendation:
WBZX Automatic Upward-Film-Feeding Packaging Machine is specially designed for automatic packaging of a large number of items. The machine adopts the method of upward film feeding to automatically wrap, shape and hot-seal the product.
Machine features:
Adopting large full-colored touch screen HMI, with settings storage and recall (recipe) function to allow quick product changeover. HMI includes constant monitoring of machine settings and parameters such as bag length, packaging speed, etc.
By using one or several servo motors, and AC motors with frequency converter, this machine is able to realize stepless speed control, which can be dynamically adjusted during operation.
Adopting photoelectric detection and two-way tracking to effectively eliminate packaging errors and avoid material waste.
The new horizontal sealing design allows sealing at a low temperature, reducing packaging material waste and film scalding during power-off.
Adopting the upward film feeding design, ideal for packaging of large, irregular or loose products
Model
WBZX450-

99

WBZX450-

120

WBZX450-

150

WBZX590-

120

WBZX590-

150

WBZX590-

180

Max Film width(mm)
430
430
430
570
570
570
Speed(bags/min)
30-200
30-180
30-180
30-180
30-180
30-150
Bag length(mm)
75-400
90-400
90-400
90-400
90-400
90-400
Bag width(mm)
10-140
10-150
10-150
30-200
30-200
30-200
Bag height(mm)
5-40
15-60
30-90
15-60
10-100
40-120
Voltage
220V,50HZ
Motor power  kw
3.8
3.8
3.8
4.0
4.0
4.0
Machine size mm
5050*960*1600
5050*1200*1700
Machine weight kg
1000
1200