Product detail
Capsule/tablet blister pharmaceutical pillow wrapping packaging machine speed 30-200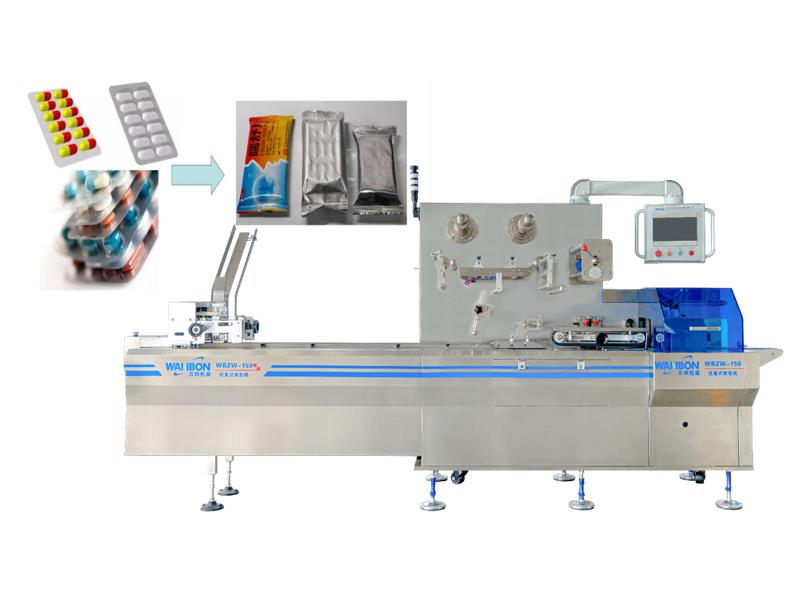 Product Features:
WBZW type reciprocating packaging machine is a kind of structural equipment in which the horizontal sealer performs elliptical movement in the vertical and horizontal directions while cutting. The movement track of the sealer is box-shaped. When the packaging film is heated and pressurized, it moves in the horizontal direction, so the heating time during sealing is long and the thermal efficiency is high. Improve the reliability and tightness of the sealing, compact packaging, and ensure a better and more beautiful sealing effect.
Scope of Application:
It is widely used in the packaging of various regular objects in the food, medicine, daily chemical industry and other industries. It is especially suitable for products with compact bag length, thick packaging film and high tightness requirements. This machine is at the leading level in the packaging industry , It is widely used in high-end customers.
The main technical parameters:
Model
WBZW450-99
WBZW450-120
WBZW450-150
WBZW590-120
WBZW590-150
WBZW590-180
Maximum (mm)
430
430
430
570
570
570
Packing speed
30-200
30-180
30-180
30-180
30-180
30-150
Bag length range (mm)
75-400
90-400
90-400
900-400
90-400
90-400
Packing width (mm)
10-140
10-150
10-150
30-200
30-200
30-200
Packing height (mm)
5-40
15-60
30-90
15-60
10-100
40-120
Power supply(V)
220V 50HZ
220V 50HZ
220V 50HZ
220V 50HZ
220V 50HZ
220V 50HZ
Total power(KW)
3.8
3.8
3.8
3.8
3.8
3.8
Dimension (Length*width*height) mm
5050*1150*1450
5050*1200*1700
Total weight(kg)
1000
1200
We supply whole production line for capsule or tablet packing machine.
From capsule counting,tablet press machine,to blister packaging machine/bottle filling and sealing machine,then pack by pillow bag/cartoner until to cellophane overwrapping/banding machine