Product detail
Drug plate automatic pillow type packaging machine
Package style: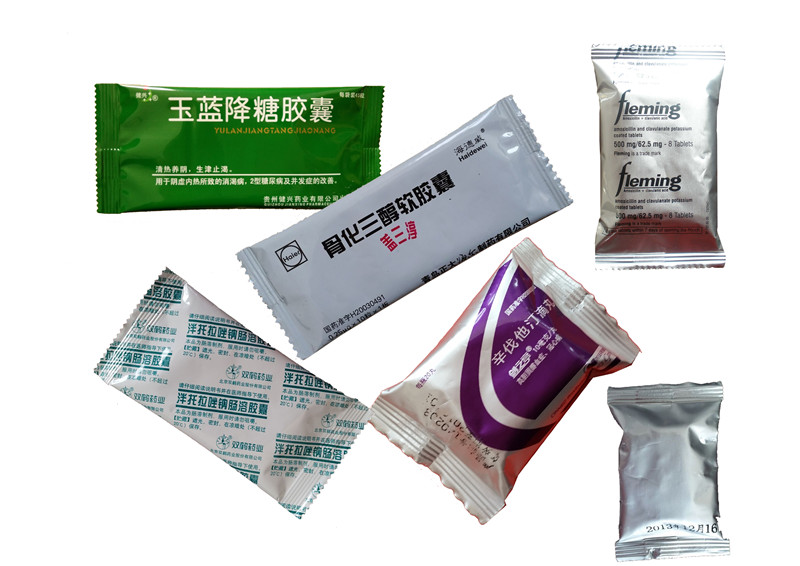 Product Features:
1. According to different products, it can realize the docking with the production line, automatic feeding with less material, automatic discharge function for more material, and automatic counting.
2. Adopt advanced PLC and servo motor control technology to facilitate function adjustment and technology upgrade.
3. Tracking method: two-way tracking. Under normal circumstances, when the packaging paper is adjusted or there is a problem with the packaging, the correction is completed within the length of 3 packaging bags. The packaging machine has two operating modes, "single action" and "linkage".
4. The automatic feeding device is made of stainless steel and is fully servo controlled. The number of medicine plates can be controlled on the touch screen panel. If there is a material jam, there will be a cylinder lifting device, which is more concise and reliable.
5. New type of horizontal sealing device, perfect sealing, no sticking to the knife, no waste of film, long service life, easy to clean. The cross-sealing cutter is made of high-strength and high-hardness alloy steel, which is wear-resistant, does not deform, and cuts sharply. The scrap rate is extremely low, and the product packaging effect is more beautiful.
6. The main electrical components are imported products, such as Panasonic servo system, Weilun touch screen, American Bonner photoelectric switch, ABB button and indicator light, etc.
7. It has the function of automatically rejecting empty packages and detecting and rejecting material shortage alarm.
Scope of Application:
It is suitable for ultra-high-speed single-board and multi-board packaging of capsules and tablets in the blister plate of the pharmaceutical industry. It can be equipped with an automatic film splicing device and an automatic packing machine.
The main technical parameters:
| | | |
| --- | --- | --- |
| Serial number | Name | Parameter |
| 1 | Maximun film width | 450mm |
| 2 | Film roller straight bore diameter Packs/min | 75mm |
| 3 | Packs/min | 50-260 packs.min(According to factors such as packing and film thickness) |
| 4 | Bag length cutting length | 110-160mm |
| 5 | Packing width | 30-180mm |
| 6 | Packing height | 4—55mm |
| 7 | Total power | 220V—380V    10KW |
| 8 | Air source | Air consumption 0.15m³/min, air pressure 0.5-0.7MPa |
| 9 | Equipment dimensions | Length 4230mm*width 1120mm*height 1465mm |
| 10 | Equipment quality | 1500KG |