Product detail
Tobacco multi-pack machine Automatic Wrapping Machine WBG-SL380 Series
We are a China manufacturer supplying precision engineered, versatile overwrapping machinery for a range of tobacco products including:
*Single Carton Overwrapping
*Collating and bundling of HLP or soft packs into Clear / Naked Wrap formats
*Duty Free / Travel Retail Bundle Wrapping
*Cigar Tins and Display Boxes
*RYO Pouch Collating and Wrapping
*Molasses / Shisha Pipe Tobaccos
*Vapour & E-Cigarettes
Hookah/Shisha packaging solution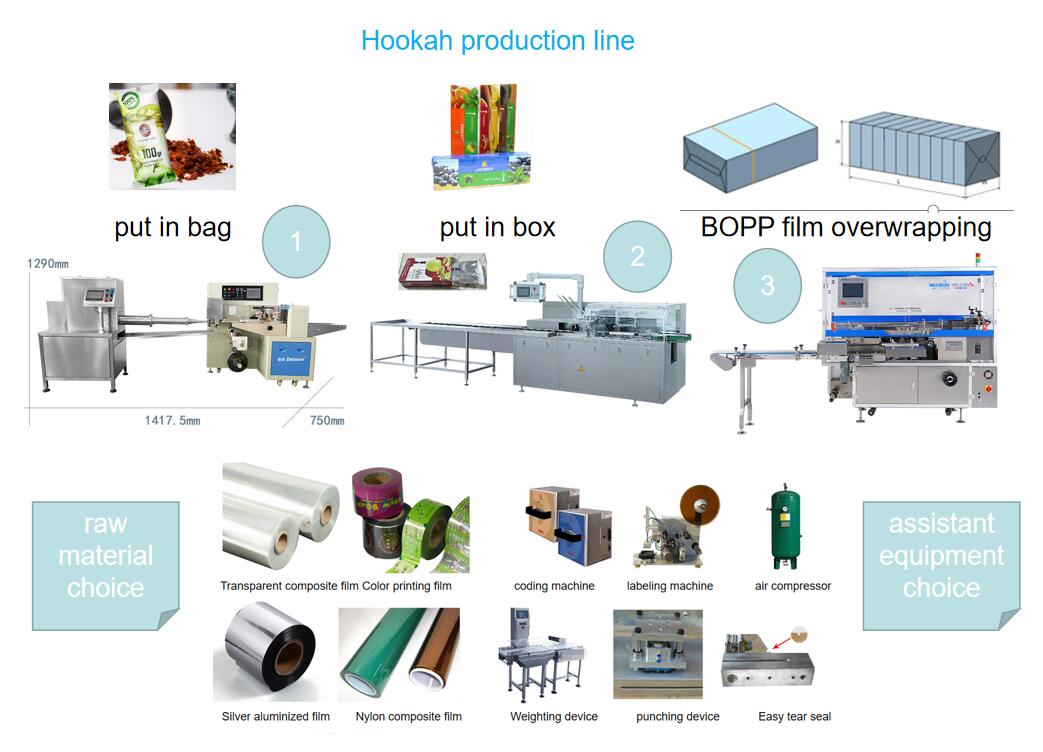 Product Features:
1. Fully sealed packaging: waterproof, moisture-proof, anti-pollution, anti-channeling.
2. Instant sealing, no material storage at the heat sealing station: similar to cold packaging, no effect on heat-sensitive pharmaceutical products.
3. Dual servo control system to ensure stable operation of the equipment and control static electricity generation.
4. Automatic: automatic feeding, stacking, sorting, packaging, heat sealing and counting.
5. The electrical control system is centered on the programmable controller PLC: to ensure stable and reliable operation of the equipment, and stable performance.
6. The packaging speed can be steplessly adjusted, and box packaging of different specifications (size, height, width) can be packed by replacing the folding cardboard.
Scope of Application:
This product is suitable for flat box automatic feeding, box erecting, sorting, packaging, heat sealing and counting.
The main technical parameters:
| | | |
| --- | --- | --- |
| Project name | 520 | 580 |
| Packing Dimension L×W×H (mm) | (80-300)×(70-130)×(30-120) | (80-350)×(70-160)×(30-120) |
| Packing speed (packs/min) | (30-50) | (30-50) |
| Packing material | BOPP or PVC | BOPP or PVC |
| Inner hole diameter (mm) | Φ75/0.021-0.028 | Φ75/0.021-0.028 |
| Air consumption (L/min) | (20-30) | (20-30) |
| Total power (kw) | 2. 25 | 2.25 |
| Integrated noise dB(A) | <65 | <65d |
| Dimension (mm) | 1820×1341×1364 | 1820×1341×1364 |
| Total weight (kg) | 1000 | 1000 |
| Power (V/HZ) | 220V/50HZ | 220V/50HZ |
| Hot sealing temperature (℃) | 100-140 | 100-140 |