Product detail
Pharmaceutical Products Bundle Wrapping Machine WBG CD380 (Mirror Image Type)
This is a customized HIGH END OVERWRAPPING MACHINE WBG CD380 we sent to Thailand Bangkok.
click this packing machine to see the video.   https://www.overwrappingmachines.com/Medicine-Box-BOPP-Mirror-Packing-Machine
3 types of boxes with different sizes, bundle packing, combined wrapped.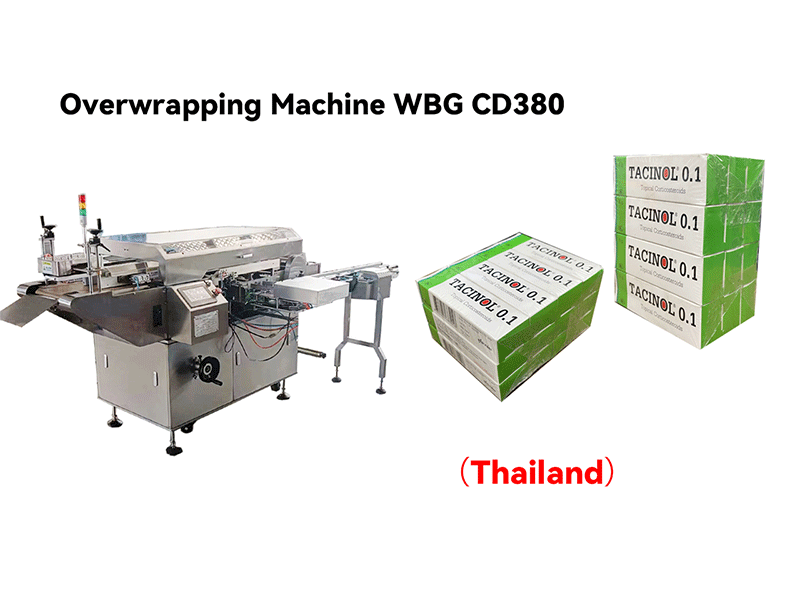 BOPP Overwrapping Machine Main Technical Parameters
Packing size range L×W×H (mm)
(80-300)×(70-260)×(30-120)
Packing speed (bags/min)
(20-40)
Packaging Materials
BOPP or PVC
BOPP or PVC Inner hole diameter

/thickness (mm)

Φ75/0.021-0.028
Air consumption (L/min)
(20-30)
Total power (kw)
2.25
Comprehensive noise dB(A)
<65
Dimensions (mm)
1820×1341×1364
Overall weight (kg)
1000
Power supply (V/HZ)
220V/50HZ
Heat sealing temperature (℃)
100-140
Overwrapping Machine Features
Fully sealed packaging: waterproof, moisture-proof, anti-pollution, anti-product changing mistake.
Instant sealing, no material storage at the heat sealing station: similar to cold packaging, no effect on heat-sensitive pharmaceutical products.
Dual servo control system to ensure stable operation of the equipment and avoid static electricity.
Automatic: automatic feeding, stacking, sorting, packaging, heat sealing and counting.
The electrical control system is centered on the programmable controller PLC: to ensure stable and reliable operation of the equipment, and stable performance.
The packaging speed can be steplessly adjusted, and differentsize of boxes (length, height, width) can be packed by replacing the folding cardboard.