Product detail
Automatic italian dry pasta packing machine for food noodle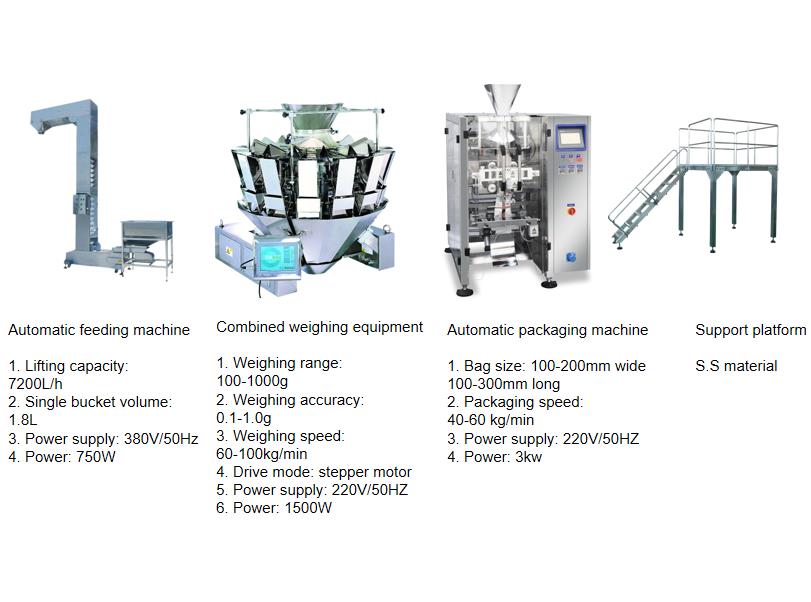 1.Advantages:
1) Imported PLC control system and color touching screen enable easy and efficient operation
2) The bag type is diversified, and it can provide customers with pillow-shopped bags, gusset bags, hanging hole bags, and even bags
3) Imported servo film transport system, imported color standard sensor, accurate positioning, excellent machine performance, and beautiful packaging
4) A variety of automatic alarm protection functions are used to minimize losses
2.WKL-420 automatic bag-making and packaging equipment
Technical parameters of equipment:
1)This set of automatic weighing and packaging system ① Vibrating blanking Z-type material lifting equipment → ② Computer combined weighing equipment → ③ Automatic vertical packaging equipment → ④ Working platform → ⑤ Finished product conveying equipment
2)Main performance and structural features:
Fully automatic completion of the whole process of raw material feeding, weighing and measuring, filling and bag making, inflation/exhaust, printing date and finished product conveying;
High measurement accuracy, high efficiency, and no broken materials. III.
Application scope is suitable for automatic packaging of irregular lumps and granules, such as puffed food, potato chips, crispy rice, jelly, candy, pistachios, apple slices, dumplings, cookies, dried fruits, melon seeds, roasted seeds and nuts, glutinous rice balls, medicinal materials, quick-frozen foods, etc.
Model WKL-420
Bag size (L)80-300mm, (W)60-200mm
Packaging speed 25-75Bags/Min According to the meter speed.
Electric source 220V, 50-60Hz, 3.0 Kw
compressed air 6-8 kg/m2 ,0.3 m3/min
Heavy quantity 500 Kg
Size 1450×1000×1400 (mm)
Other Choice of packaging machine