Product detail
Automatic Cellophane Wrapping Machine with tear tape
easy tear tape line Package style :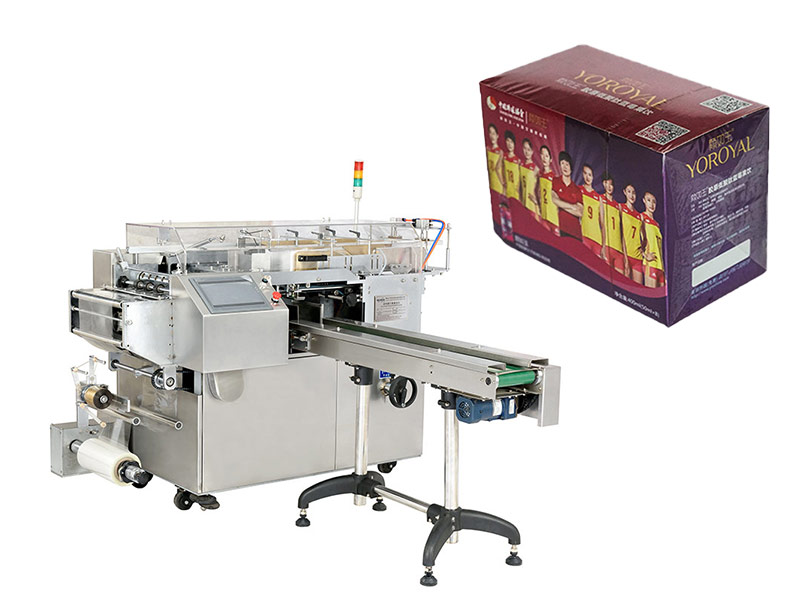 ◆ Compared with heat shrink packaging machine, it is more energy-saving and power-saving, fully sealed packaging: waterproof and moisture-proof, and anti-infection.
◆ Instant sealing, no material stored in the heat sealing station: similar to cold packaging, which has no effect on pharmaceuticals and heat-sensitive products.
◆ Fully automatic: automatic feeding, stacking, packaging, heat sealing, sorting and counting.
◆ The electrical control system is centered on the programmable controller PLC, which ensures stable and reliable operation and stable performance of the equipment.
◆ Automatic zero adjustment and reset function, the equipment is humanized and intelligent. Simpler to use, operate, maintain and repair.
◆ Box-type packaging and solid moldings of different specifications (size, short, width) can be packaged by replacing a few parts.
Product Features :
The WBG type automatic transparent film wrapping machine is carefully designed and manufactured by our company based on the design concepts of Italy and Germany, using advanced three-dimensional computer-aided design software and mechanism motion analysis software, according to the characteristics of domestic packaging materials. This machine is a fully automatic packaging machine, using advanced PLC and servo motor control technology, which can be used independently or online.
Scope of Application:
This product can automatically feed, pack, heat seal, sort, count, and automatically paste anti-counterfeiting easy-pull threads on large-sized boxes. It is your best choice to improve packaging quality, increase packaging efficiency, reduce packaging costs, and improve packaging grades.
The main technical parameters:
| | | |
| --- | --- | --- |
| Project name | 450 | 520 |
| Packing Dimension L×W×H (mm) | (80-300)×(70-200)×(30-135) | (80-350)×(70-200)×(30-150) |
| Packing speed (packs/min) | (30-50) | (30-50) |
| Packing material | BOPP or PVC | BOPP or PVC |
| Inner hole diameter (mm) | Φ75/0.021-0.028 | Φ75/0.021-0.028 |
| Air consumption (L/min) | (20-30) | (20-30) |
| Total power (kw) | 2. 5 | 2.5 |
| Integrated noise dB(A) | <65 | <65d |
| Dimension (mm) | 1740×1200×1180 | 1740×1200×1180 |
| Total weight (kg) | 1000 | 1000 |
| Power (V/HZ) | 220V/50HZ | 220V/50HZ |
| Hot sealing temperature (℃) | 100-140 | 100-140 |