Product detail
Medicine pill box collaction packaging machine Automatic wrapping machine WBG-CD380 Series
Medicine box,poker,tea box,perfume box,tobacco packing.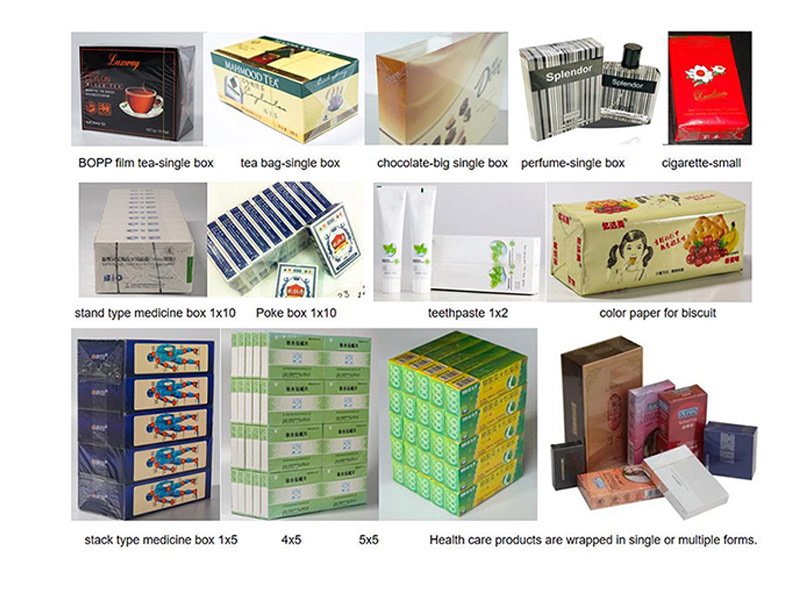 The Wanbon overwrapper can provide the versatile solution you are looking for, as follows:
*The flexibility to overwrap many product sizes on any one machine
*Tight wrap in either, polypropylene, cellophane, paper, clear and printed films
*Carton protection – prevention from carton surface damage
*Security – peace of mind the product has not been tampered with
*Seal area flexibility – allows the longitudinal seal to be positioned either on trailing edge or on the base of the carton, depending on carton design and marketing needs
*Geometrically exact end folds – giving that sleek finished look
*Easy open tear tape facility
Product Features :
The WBG type automatic transparent film wrapping machine is carefully designed and manufactured by our company based on the design concepts of Italy and Germany, using advanced three-dimensional computer-aided design software and mechanism motion analysis software, according to the characteristics of domestic packaging materials. This machine is a fully automatic packaging machine, using advanced PLC and servo motor control technology, which can be used independently or online.
Scope of Application:
It can achieve automatic progress of large size cases, including loading, stacking, hot sealing, reorganizing , counting,ect。 It's your best choice to improve quality and efficiency of packaging, cut down cost and lift packaging grade.
The main technical parameters:
| | | |
| --- | --- | --- |
| Project name | 450 | 520 |
| Packing Dimension L×W×H (mm) | (80-300)×(70-200)×(30-135) | (80-350)×(70-200)×(30-150) |
| Packing speed (packs/min) | (20-40) | (20-40) |
| Packing material | BOPP or PVC | BOPP or PVC |
| Inner hole diameter (mm) | Φ75/0.021-0.028 | Φ75/0.021-0.028 |
| Air consumption (L/min) | (20-30) | (20-30) |
| Total power (kw) | 2. 25 | 2.25 |
| Integrated noise dB(A) | <65 | <65d |
| Dimension (mm) | 1740×1200×1180 | 1740×1200×1180 |
| Total weight (kg) | 1000 | 1000 |
| Power (V/HZ) | 220V/50HZ | 220V/50HZ |
| Hot sealing temperature (℃) | 100-140 | 100-140 |